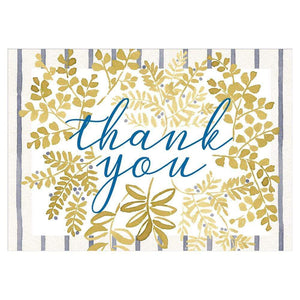 Caspari boxed thank you notes are a perfect staple for your stationery collection. Recipients of your thanks will be greeted by stunning licensed artwork from artist and museums around the world. Our cards are printed in on high-quality cardstock in the USA where we can ensure fine-quality printing and attention to detail in our products. The front of our cards offer thanks and inside the notes are blank, leaving you with room to write any sentiment of thankfulness. The sets of 8 note cards and 8 coordinating envelopes arrive in a slim cellophane package.
Printed on heavyweight cardstock paper with lacquer finish and boxed in a gold foil container for easy & elegant gifting.
Our Swiss printer, Graphische Anstalt J.E Wolfensberger AG, is an FSC-certified printer.
8 Cards and 8 Envelopes per Package
Approximately 4" x 6"
Caspari maintains a philosophy of presenting a wide selection of designs from world renowned museums and independent artists ranging in style from traditional to contemporary. Throughout the product line, Caspari showcases unique and lovely artwork and product designs inspired by fine art, textiles, ceramics, and interior design.