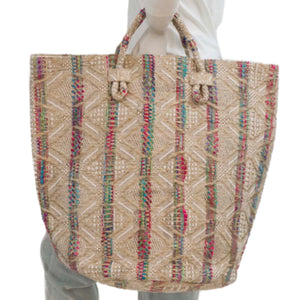 Toss this handloomed bag over your shoulder with its bold cheetah design and you look and feel like a million bucks!  This year's top fashion print for on trend wearables, wear this bag daytime or evening, and make a big statement. 
Lined with a fabulous vintage art deco black and white abstract print the combination is delightful.
The black pattern in the lining creates a perfect contrast against the strong cheetah weave and makes it an even bolder fashion choice.
OUR NEW SUPER SHLEPPER BAG GREAT FOR THOSE BIG SHOPPING DAYS OR JUST FOR LAUNDRY. 
22" height
18" width round
10" heavy handle 
fully lined with soft organic cotton fabric