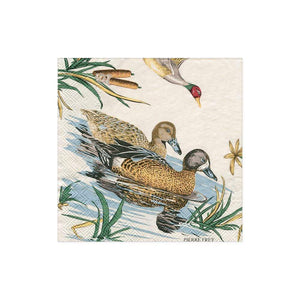 Caspari triple-ply napkins are both striking in design and durable in function. Thoughtfully designed to elevate any occasion, they feature artwork and designs from museums and artist around the world. Each is made of triple-ply tissue and printed in Germany with non-toxic, water-soluble dyes and food-safe ink. They are FSC-certified and made using environmentally-conscious raw materials, which ensures they are both biodegradable and compostable. Our napkins bring eco-friendly style and convenience to your tabletop. 40 napkins per package. 10" x 10".
Triple-ply material offers convenience and durability.
Printed in Germany using non-toxic, water soluble dyes.
40 Cocktail Napkins per Package
5" x 5" napkin, 10" x 10" when open.
In a gold foil box with a clear acrylic lid.
Caspari maintains a philosophy of presenting a wide selection of designs from world renowned museums and independent artists ranging in style from traditional to contemporary. Throughout the product line, Caspari showcases unique and lovely artwork and product designs inspired by fine art, textiles, ceramics, and interior design. 
Pierre Frey, founded in 1935, designs, creates and manufactures fabrics and wallpapers in the purest French tradition. Although traditionally a fabric and furnishing house, it's also attuned to the modern world, which has led to the creation of equally stunning home accessories and furniture collections. Pierre Frey draws its patterns as much from imperial China as 18th century France or contemporary Africa, and prides itself on an eclectic array of materials and colors as well as its influences. Beyond all this, Pierre Frey represents an outstanding heritage, a remarkable collection of archives at the customer's disposal. More than 30,000 documents (designs, fabrics, carpet samples) dating from the 16th century through to the present day have been gathered together in Paris where they can be search by period, by color, by motif, or by technique. It is an extraordinary resource which makes Pierre Frey a valued point of contact for leading museums across the globe.