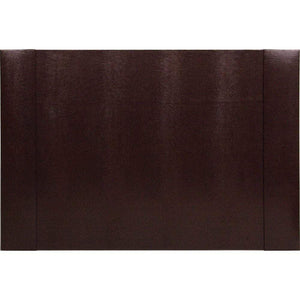 Crafted in the USA at our Connecticut bindery, our faux leather desk pads are unique and functional desk accessories. Featuring an embossed texture and quality craftsmanship, this desk pad will add style to your work desk or home office. Traditionally, desk pads and blotting paper were used when writing with calligraphy or fountain pens. Today, they can still be used for this purpose but are more commonly used to jot down notes and protect desktops. They also provide a surface to safely place items and preventing slipping. New desk pads include a single sheet of blotting paper, which can be refilled.
This desk pad features a faux leather exterior and a cotton rag blotter paper.
Handcrafted in our Connecticut bindery for the highest quality and attention to detail.
1 Pad and 1 Blotter Sheet.
14.25" x 21.25" x 0.75"
Caspari maintains a philosophy of presenting a wide selection of designs from world renowned museums and independent artists ranging in style from traditional to contemporary. Throughout the product line, Caspari showcases unique and lovely artwork and product designs inspired by fine art, textiles, ceramics, and interior design.