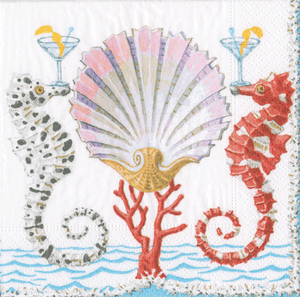 Caspari triple-ply napkins are both striking in design and durable in function. Thoughtfully designed to elevate any occasion, they feature artwork and designs from museums and artist around the world. Each is made of triple-ply tissue and printed in Germany with non-toxic, water-soluble dyes and food-safe ink. They are FSC-certified and made using environmentally-conscious raw materials, which ensures they are both biodegradable and compostable. Our napkins bring eco-friendly style and convenience to your tabletop. 40 napkins per package. 10" x 10".
Triple-ply material offers convenience and durability.
Printed in Germany using non-toxic, water soluble dyes.
40 Cocktail Napkins per Package
5" x 5" napkin, 10" x 10" when open.
In a gold foil box with a clear acrylic lid.
Caspari maintains a philosophy of presenting a wide selection of designs from world renowned museums and independent artists ranging in style from traditional to contemporary. Throughout the product line, Caspari showcases unique and lovely artwork and product designs inspired by fine art, textiles, ceramics, and interior design. 
Harrison Howard's attraction to art began on the floor of his father's studio as a young child. The paintings he produces reflect his attraction to both fine and decorative art. He finds inspiration in the natural world, literature and other writing, a broad range of visual art, the unusual images and antiques in his possession, and from contact with other people. Much of Harrison's work has been in painting fantastic murals, mostly in private homes. Today he focuses on prints and easel size paintings, which he creates in his studio in San Diego. Harrison finds the greatest inspiration in art that celebrates life and which is driven heavily by imagination. His images are intended to provoke other people's imaginations and to transport them into a world that is uplifting and which they will want to revisit.