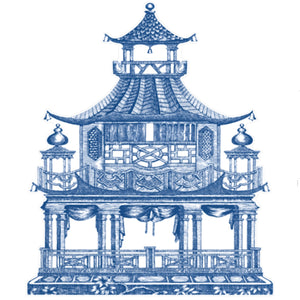 Caspari's reusable die-cut placemats are handmade in the USA. As a part of their Gallery Collection, they are crafted in their Connecticut bindery, which incorporates the same artisan skills used in centuries past to create beautiful & high-quality handmade goods. Made of durable vinyl coated paper, the placemats coordinate perfectly with the existing palette of Caspari colors and tabletop designs. They are a perfect addition to your special occasion tabletop design or as an everyday table accessory. To clean after use, wipe with a damp cloth.
Approximately 13.5" Diam.
One per package.
The Colonial Williamsburg Foundation operates the world's largest living history museum in Williamsburg, Virginia—the restored 18th-century capital of Britain's largest, wealthiest, and most populous outpost of empire in the New World. Here we interpret the origins of the idea of America, conceived decades before the American Revolution. The Colonial Williamsburg story of a revolutionary city tells how diverse peoples, having different and sometimes conflicting ambitions, evolved into a society that valued liberty and equality. Americans cherish these values as a birthright, even when their promise remains unfulfilled. In addition to the Historic Area, the foundation also operates The DeWitt Wallace Decorative Arts Museum, The Abby Aldrich Rockefeller Folk Art Museum, Bassett Hall, and John D. Rockefeller Jr. Library, which showcase American and British decorative arts, fine art, architecture and manuscripts of the 17th, 18th, and 19th centuries.