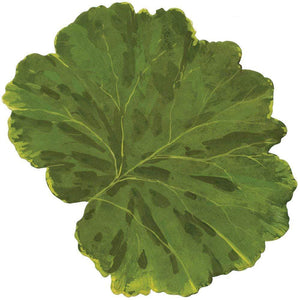 Caspari's reusable die-cut placemats are handmade in the USA. As a part of their Gallery Collection, they are crafted in their Connecticut bindery, which incorporates the same artisan skills used in centuries past to create beautiful & high-quality handmade goods. Made of durable vinyl coated paper, the placemats coordinate perfectly with the existing palette of Caspari colors and tabletop designs. They are a perfect addition to your special occasion tabletop design or as an everyday table accessory. To clean after use, wipe with a damp cloth.
Approximately 14.5" x 12"
One per package.
Isabelle de Borchgrave's story begins with creative explorations, both literal and figurative. She set up her painting practice in a home studio, offered classes, and explored her art in various mediums. During a visit to the Metropolitan Museum in New York in 1994, Isabelle dreamed up paper costumes. While keeping her brushes in hand and her paintings in mind, she worked on four big collections, all in paper and trompe l'œil, each of which set the scene for a very different world. Her explorations of clothing and embellishments span the globe and offer a glimpse into centuries past. Isabelle's name is also closely linked to the world of design. By working together with Caspari, the potteries of Gien, Target, and Villeroy and Boch, Isabelle has turned her imagination into an art that's accessible to anyone who wants to bring festivity into their home. Painted fabrics and paper, dinner services, curtains, sheets, decor with a personal touch for parties and weddings… All this tells of the world in which she has always loved to move.