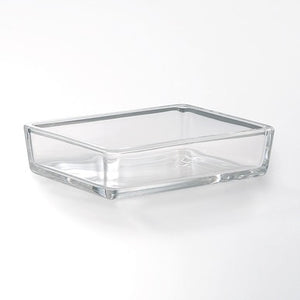 This removable, dishwasher-safe crystal insert is included with a number of our metal soap dishes. The insert may also be purchased separately if replacements or additional quantities are needed. Made In Italy.
Like all fine, handcrafted products, Labrazel bath accessories should be handled with care.
Spot-clean and polish with a soft, lint-free cloth.
Paper towels are not recommended as they may scratch some surfaces.
Not dishwasher-safe.
Pump dispensers that are used infrequently should be flushed with water to prevent soap from drying inside the pump mechanism. Dried soap can result in a clogged pump.
24% Lead Crystal
Made in Italy
4.75" x 3.5" x 1"