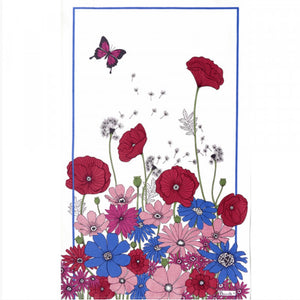 A delightful red, pink and blue daisy and poppy bouquet dotted with butterflies on hand printed tea towels.
82% Cotton 18% Linen.
20x31"
Printed
Printed in Alsace (France) using a state-of-the art silkscreening process, Beauville linens feature sophisticated designs rendered in very vibrant colors. Every piece can contain up to twenty different colors, each of which is separately applied onto pure cotton or cotton/linen cloths. The designs are often inspired by 18th and 19th century French woodblock designs, or created in-house. Beauville customers include Hermes, Pierre Frey, Cowtan & Tout, Ralph Lauren, Catherine Deneuve, the Royal Court of Sweden, The Royal Danish House, and the White House. Beauville was awarded the "Entreprise du Patrimoine Vivant" label in 2009, given to French firms for their excellence in their traditional and industrial skills.