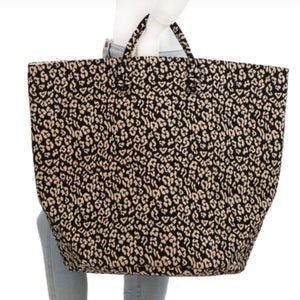 CHEETAH WOVEN BAGS..THE OBVIOUS BEST CHOICE.
Cheetah prints are always the most fashionable choice for all seasons and a perfect staple for every wardrobe but they are now even more on trend than ever before...though we confess it does feel a bit decadent to wear a big cheetah design. Our new hand loomed cheetah bag takes this look to a new level. Toss this handloomed bag over your shoulder with its bold cheetah design and you look and feel like a million bucks!  This year's top fashion print for on trend wearables, wear this bag daytime or evening, and make a big statement. 
Lined with a fabulous vintage art deco black and white abstract print the combination is delightful.
The black pattern in the lining creates a perfect contrast against the strong cheetah weave and makes it an even bolder fashion choice.
We love the feel of these bags - sturdy and confident ....the gorgeous woven fabrics with their handloomed textures...and we think you will love them too!
Enjoy these very special new pieces from the design team of Randi and Will and get ready to load this super tote up! Wear this bag for daytime when you need a lot of room or use it at home to gather items with - maybe even a bit of laundry, either way, its perfect.
OUR NEW SUPER SHLEPPER BAG GREAT FOR THOSE BIG SHOPPING DAYS OR JUST FOR LAUNDRY. 
22" height
18" width round
10" heavy handle 
fully lined with creme soft organic cotton fabric