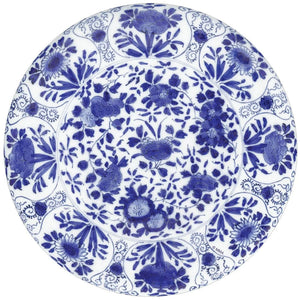 Caspari reusable die-cut placemats are handmade in the USA. As a part of our Gallery Collection, they are crafted in our Connecticut bindery, which incorporates the same artisan skills used in centuries past to create beautiful & high-quality handmade goods. Made of durable vinyl coated paper, our placemats coordinate perfectly with the existing palette of Caspari colors and tabletop designs. They are a perfect addition to your special occasion tabletop design or as an everyday table accessory. To clean after use, wipe with a damp cloth.
Approximately 14" diameter
1 Per Package
The Metropolitan Museum of Art presents over 5,000 years of art from around the world for everyone to experience and enjoy.  Since its founding in 1870, The Met has always aspired to be more than a treasury of rare and beautiful objects. Every day, art comes alive in the Museum's galleries and through its exhibitions and events, revealing new ideas and unexpected connections across time and across cultures.  The Metropolitan Museum of Art collects, studies, conserves, and presents significant works of art across all times and cultures in order to connect people to creativity, knowledge, and ideas.