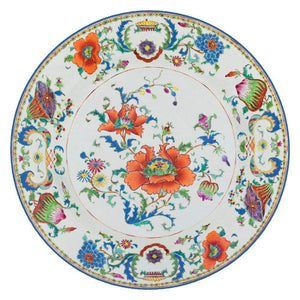 Caspari's reusable die-cut placemats are handmade in the USA. As a part of their Gallery Collection, they are crafted in their Connecticut bindery, which incorporates the same artisan skills used in centuries past to create beautiful & high-quality handmade goods. Made of durable vinyl coated paper, the placemats coordinate perfectly with the existing palette of Caspari colors and tabletop designs. They are a perfect addition to your special occasion tabletop design or as an everyday table accessory. To clean after use, wipe with a damp cloth.
Approximately 14.5" in diameter.
One per package.
Based on an 18th century porcelain pattern designed for export to France and in the collection of The Museum of Fine Arts Boston.
The original MFA opened its doors to the public on July 4, 1876, the nation's centennial. Today the MFA is one of the most comprehensive art museums in the world; the collection encompasses nearly 500,000 works of art. The Museum has obligations to the people of Boston and New England, across the nation and abroad. It celebrates diverse cultures and welcomes new and broader constituencies. The Museum is a place in which to see and to learn. It stimulates in its visitors a sense of pleasure, pride and discovery which provides aesthetic challenge and leads to a greater cultural awareness and discernment. The Museum's ultimate aim is to encourage inquiry and to heighten public understanding and appreciation of the visual world.