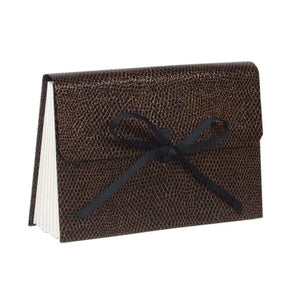 Caspari Accordion File Folders are a beautiful and helpful organizational tool to add to your home or office. Our small file folders are handmade in our own Connecticut bindery, where craftsmanship and attention to detail are our top priority. The file holders are comprised of a multi-sectioned accordion center with two sturdy, faux leather finished exterior sides and a fold over top with ribbon closure. Keep notes, lists, photos, coupons, recipes, and other important papers organized and safe in this travel-sized folder.
This file folder features a faux leather exterior and ribbon closure.
Handcrafted in our Connecticut bindery for the highest quality and attention to detail.
1 Accordion File.

Dimensions: 7" x 5"
Caspari maintains a philosophy of presenting a wide selection of designs from world renowned museums and independent artists ranging in style from traditional to contemporary. Throughout the product line, Caspari showcases unique and lovely artwork and product designs inspired by fine art, textiles, ceramics, and interior design.